Harvard Educated Board-Certified Plastic Surgeon Helping You Look As Good on the Outside as you Feel on the Inside!
We Proudly Serve Dallas, Fort Worth, Colleyville, Grapevine, Southlake, Plano, Frisco and Surrounding Areas.
Have you been considering a plastic surgery procedure but aren't sure how you will pay for it? Ver Halen Plastic Surgery conveniently partners with Care Credit, Alpheon Credit, United Medical Credit, Enhance Patient Finance and more, to offer a range of different financing options to help YOU be your BEST! For patients with poor credit, we also now offer in-house patient financing!
---

PatientFi puts the patient's best interest at the center of everything. Designed by the nation's leading plastic surgeons, PatientFi allows you to pay for your treatment through flexible monthly payment plans, customized to fit your budget. Checking your rate won't hurt your credit score. Find out your monthly payment today!
We do a soft credit check when you apply so there's no impact to your credit score to see what's possible.
Buy Now. Pay Monthly. Let your money go further and take better control of your cash flow when you pay in smaller, more manageable monthly installments with Cherry.
Pre-Qualify in seconds It's fast, easy, and won't impact your credit.
Accept Your Offer of up to $25,000 Approval is instant, so you can get on with your day.
Pay Your Bill with your Eve card Complete payment requests with just a few clicks.
Find the payment that works best for you. Starting at just $35/month (According to the term¸ of the Cardmember Agreement).
A healthcare credit card issued by Comenity® Capital Bank is usable for all kinds of plastic surgery procedures, including mommy makeover, breast augmentation, liposuction, and
more.
Alphaeon Credit cards provide a credit line of up to $25,000, obtainable via an online application form that in some cases can be approved instantly. The card works in the same way as a traditional credit card, with monthly interest accrual and minimum monthly repayments. There is a minimum purchase value of $250.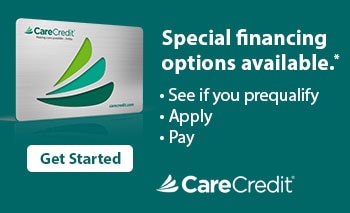 CareCredit is a healthcare credit card issued by /Synchrony Bank and usable for all kinds of plastic surgery procedures. CareCredit offers several different financing options, from short-term, low-interest credit to extended payment plans with terms of up to 60 months. These long-term plans have fixed monthly payments and a more competitive interest rate than most other credit cards provide.
Depending on eligibility and available promotions, some loan applicants may be able to get no-interest credit or a fixed, low APR. There are no penalties for prepayment. In addition to a line of credit, CareCredit offers some optional features, including a security program that may allow cancellation of an account balance of up to $10,000 in the event of certain life changes such as unemployment, disability, or hospitalization.
Thousands of patients have trusted United Medical Credit to secure affordable payment plans for their procedures. United Medical Credit can do the same for you.
Some of the benefits of choosing United Medical Credit to finance your care:
Extensive Network of Prime and Subprime Lenders
Multiple Plans to Choose From
Decisions Within Seconds
No Prepayment Penalties with Flexible Terms
Fast and Easy Application Process with No Commitment
100% Confidential
Plans available for Credit Challenged Applicants
Enhance Patient Finance offers simple, instant financing options for patients. Its advanced technology offers loans of up to $35,000 from a variety of prime and subprime lenders. Promotional loans additionally offer six month deferred interest. Patients are offered 36 or 60 month installment loans.